It's the world's first hybrid motorbike – and here's my first impressions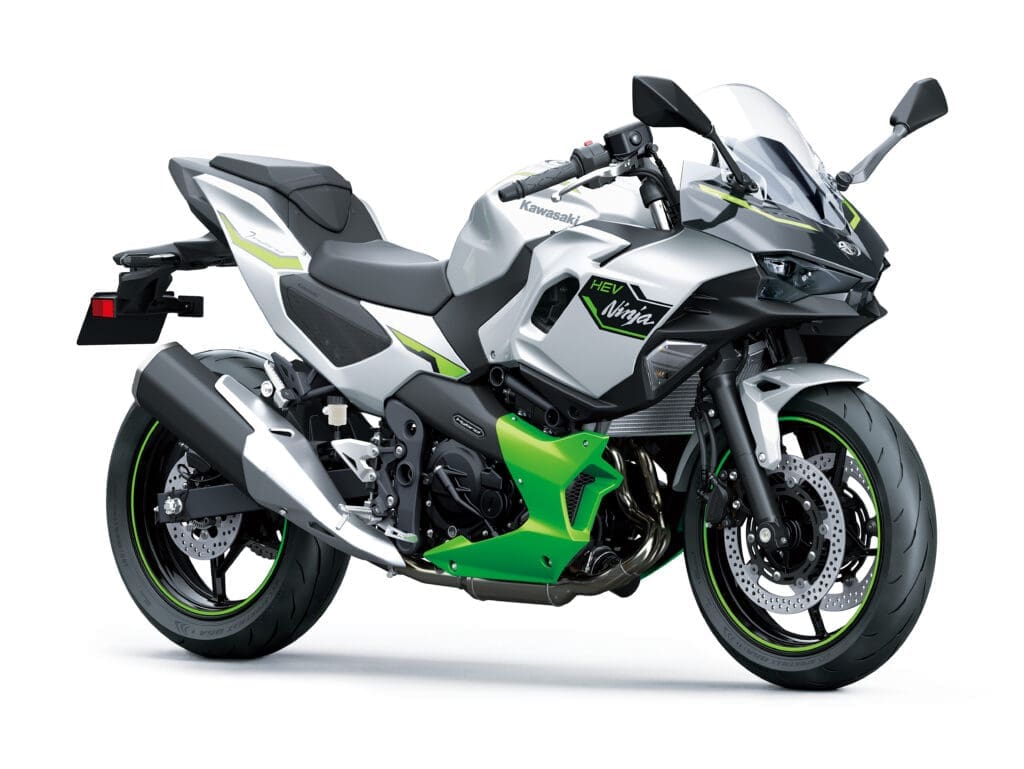 I'm just back from the launch of the new Kawasaki Ninja 7 hybrid bike in Barcelona. And it's fair to say that I'm very impressed with it. It's one of the most interesting bikes I've ever ridden, with an intriguing technology set-up, and a really usable real-world performance.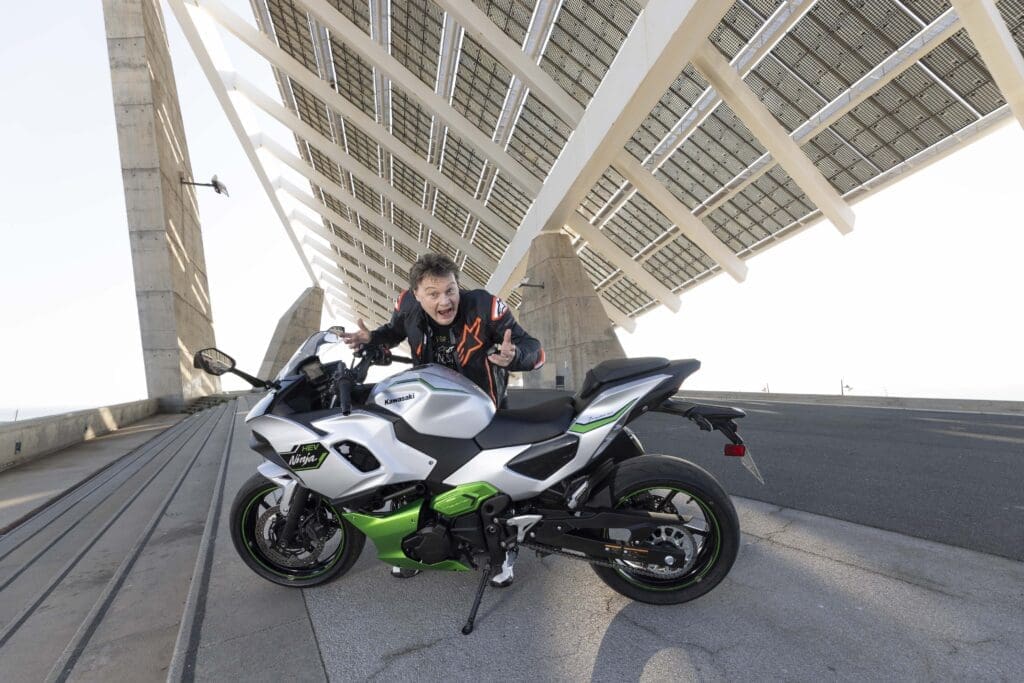 Now, first up, we should explain what it is. The Ninja 7 is a so-called 'Strong Hybrid' bike – the first ever produced. It has a 'normal' petrol-powered engine, which is a 451cc parallel twin, similar to that on the new Eliminator 500 roadster. That is extremely normal in many ways: a DOHC, 8v water-cooled twin, making 59bhp. Where it gets weird is after the primary drive though: the clutch is controlled by an ECU via a solenoid, as is the conventional sequential gearbox – it has a set of up- and down-paddles when the rider has manual control of the gears. And behind the clutch is a chain drive to a 9.5bhp liquid-cooled electric motor located behind the cylinder block – similar to the one on the new Z e-1 all-electric Kawasaki recently released. That motor has a 48 volt battery pack, weighing around 30kg, that sits under the rider's seat, and is charged directly from a generator on the engine. The Ninja 7 isn't a plug-in hybrid, so you can't charge the battery separately, rather it charges from regenerative braking when you're slowing down, and gradually charges as you ride normally.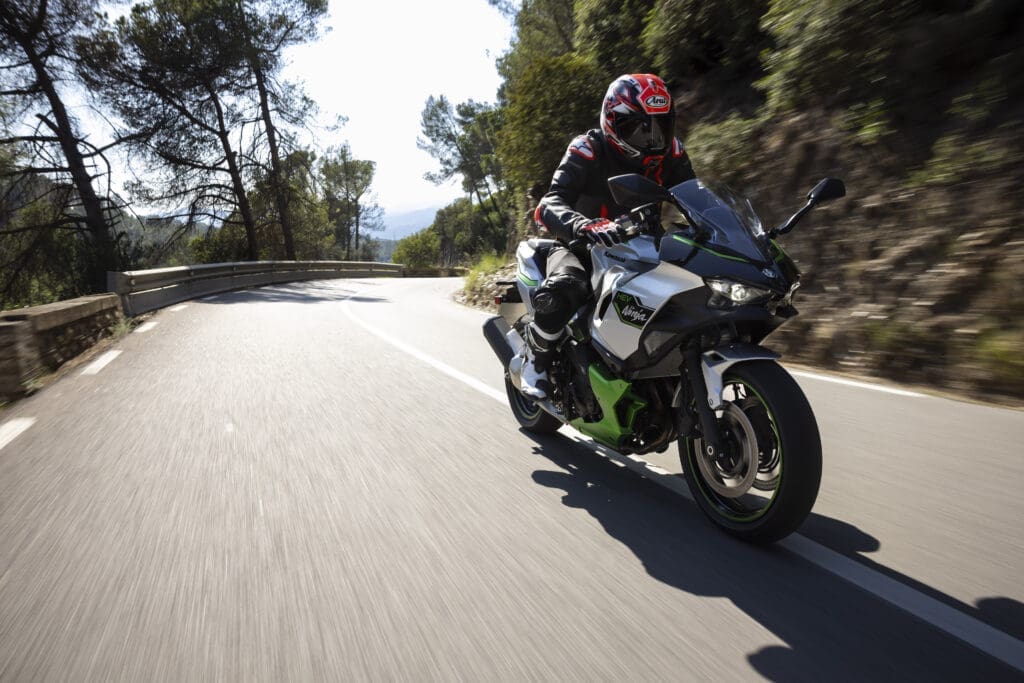 The really clever bit is the way all these parts work together. Since the bike's computer controls the clutch, it can connect and disconnect the engine completely from the transmission when it wants, and add in electric drive when convenient. That means the Ninja 7 can have three modes, starting with a pure electric mode, which limits speed to just under 40mph, with limited-but usable range, making it ideal for silent running around town like a little battery-powered scooter. Next, there's an 'Eco' hybrid mode, which adds in the petrol engine, giving full performance, but turning the motor off when you come to a halt, and pulling away from a stop with the electric drive before starting the petrol side again. Eco mode also has both automatic and manual transmission modes, with the paddle shift on the left bars controlling the changes.
Finally there's a 'Sport' hybrid mode, which keeps the petrol engine on all the time, has manual gearchange only, and adds in the 'E-boost' function. This basically dumps in the electric motor's full 9.5bhp and 36Nm of torque for five seconds at a time, rather like a nitrous button. It regenerates quickly, and you can add boost regularly so long as the battery is charged. With the boost button you get a very decent 69bhp, making the Ninja 7 more than nippy enough to match its 650-700cc performance claims.
We rode the Ninja 7 around Barcelona for a day and a half, and it's fair to say it took a bit of time to get your head around it. The controls are easy to use and logical, and the large TFT colour dash makes it easy to see what's going on. But you're having to re-learn a lot of the muscle memory actions used on a normal bike, and it takes a bit of time to get it all straight in your head.
Article continues below...
Advert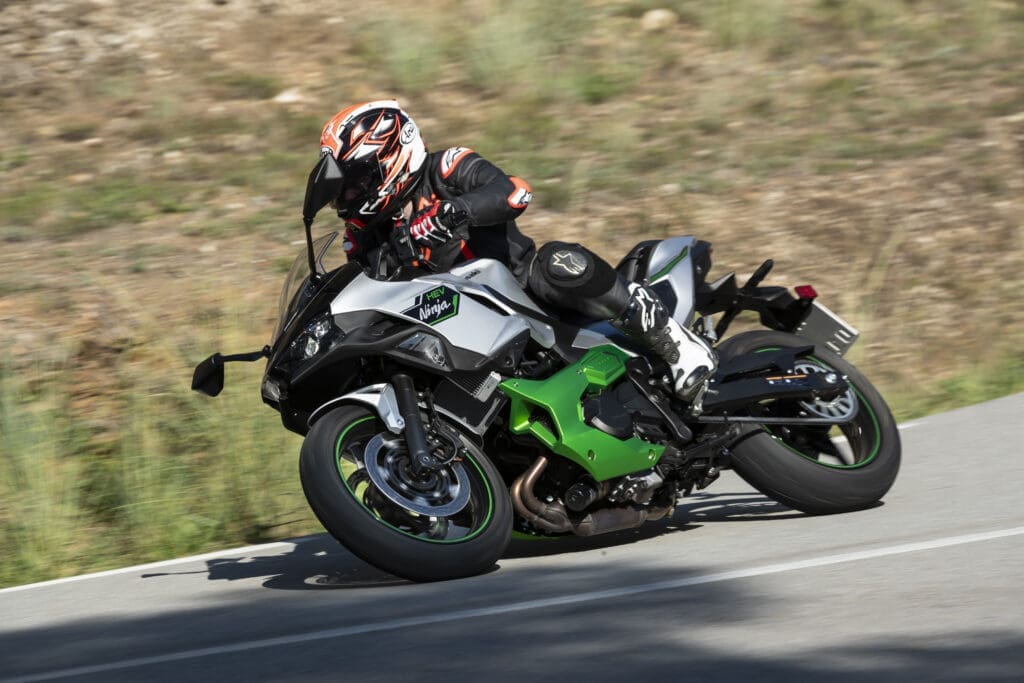 Once you do though, it's great fun. Round town you can trundle through tight traffic jams in electric mode, silently and with no heat belting out of the engine (it was silly hot in Barcelona). Dial in the Eco Hybrid mode, in automatic transmission setting, and you have a nippy scooter-like experience, with strong drive, and the petrol engine stopped at traffic lights, again keeping you cool and quiet. Get out of town, and switch to sport mode, and you can dial in your hooligan side: 69bhp with the electric motor is decent power, and the automatic gearchange is fun to slam up and down as you brake hard into a bend and drive out the other side. You can flick between the modes, and the automatic or manual gearbox really easily, and once you get the hang of it all, the little Ninja 7 is a proper hoot.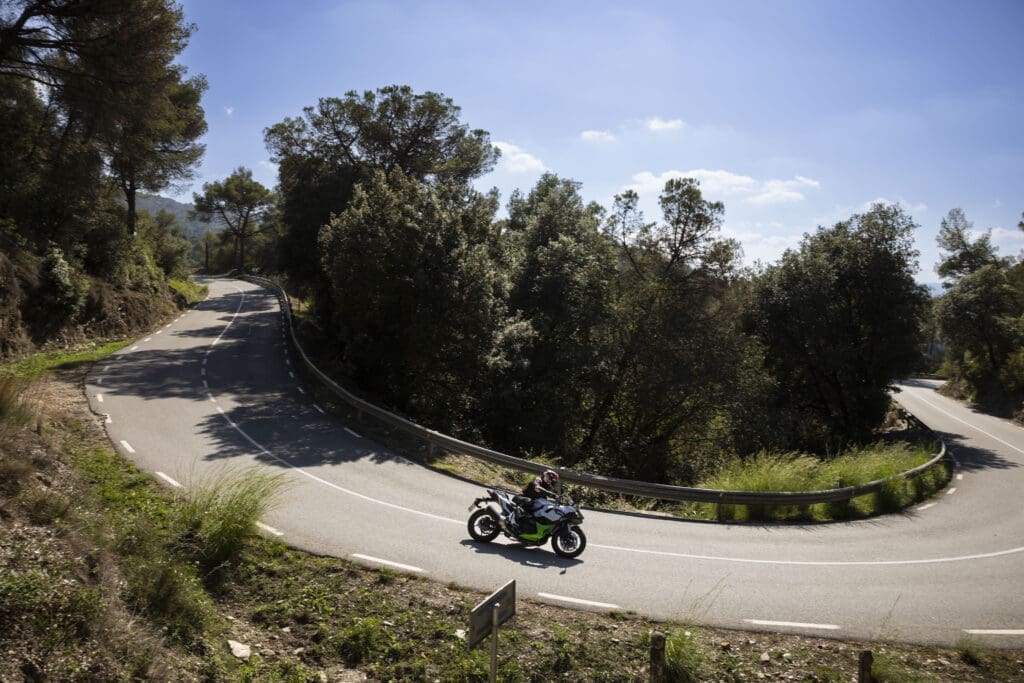 Away from the powertrain, the chassis is pretty standard sporty-road kit. The steel trellis frame, suspension, brakes, wheels and tyres are all very much in the line of the Ninja 400 and 650 model range. It's a soft, easy road bike rather than a hardcore track tool of course, but you can very much have fun on it. Having said that, we were a little surprised that Kawasaki didn't decide to put the new powertrain into something like a Versys rather than a sportsbike. The range is actually very good, thanks to the much better fuel consumption given by the hybrid system. Kawasaki claims it's better on gas than a Ninja 250, and the claimed range from the 14 litre tank is well over 230 miles, with a WMTC consumption figure in Eco mode of 3.7l/100km or 77mpg (imperial). That's great for a 227kg 69bhp bike.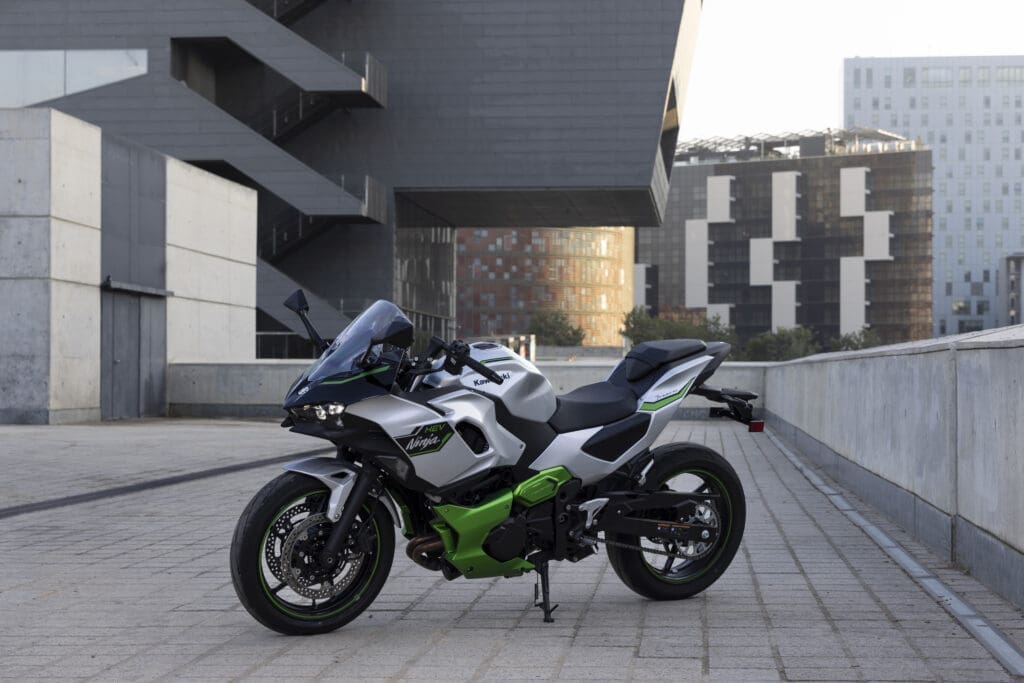 More – much more – on the new Ninja 7 next month in the print issue!
Article continues below...
Advert

Enjoy more Fast Bikes reading in the monthly magazine.
Click here
to subscribe.