I've spent time sorting the electrics, fuelling, suspension, brakes and various other things that needed attention and although it functions,it could look a bit better. The bike came with its original plastics, and boasted features such as one missing seat lug, a missing centre panel on one side, a cracked lower right fairing and a scratched seat unit. Although all the fairing parts are original, they had to go in favour of something a bit smarter that wasn't clinging on to the bike for dear life thanks to a combination of cable ties and rusty screws.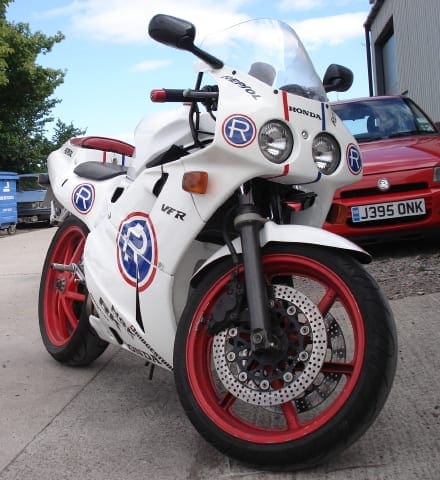 There are loads of aftermarket fairing options available for NC30s and after looking around I contacted MotoCC, who supplied me with the kit pictured. It's a replica of a special livery Dani Pedrosa and Nicky Hayden had on their bikes at Valencia in 2008 and it looks pretty damn sweet! The kit is made from good quality plastic and the finish of the paint is excellent. Fitting took me the best part of a day to get right; I had to drill all the holes for the screws and build the seat unit up from three separate parts. Marking the holes, drilling them and, where needed, filing the holes for a better fit took a while but I think the result is worth it.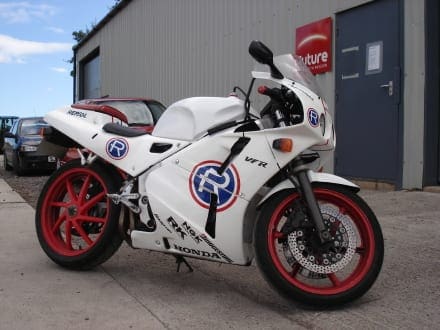 To replace the rusty screws I bought a quick release aluminium fairing kit from ProBolt, which looks much smarter than the rusty originals. The only downside was that once the fairings were sorted I was left with a red and black tank and red wheels. Repainting the tank seemed a bit extreme, and then I found out about CreativeFX in Bromley, who specialise in vinyl wrapping and graphics. After talking to them about getting it finished in plain white, I sent them my tank and had it back double quick. The tank now matches the rest of the bike and looks like it's been painted, plus I've also got the option to peel the vinyl off and voila, the original paint is still there. Mange tout.
Pip
Article continues below...
Advert

Enjoy more Fast Bikes reading in the monthly magazine.
Click here
to subscribe.